Our insights into Australia's wellbeing
12,000+




Australians Measured
6




Key mental health outcomes with detailed insights
The Be Well Tracker was created to fill a gap in our public understanding of Australia's mental health and wellbeing: a knowledge gap that impacts the wellbeing decisions we make as individuals, organisations and the wider community.
We are on a mission to help people and organisations get reliable and valid insights into their mental health and wellbeing. By doing this on an ongoing basis, we are also creating a snapshot of Australia's mental health and wellbeing while we are at it.
This page discusses some of the insights we are gaining on our journey.
​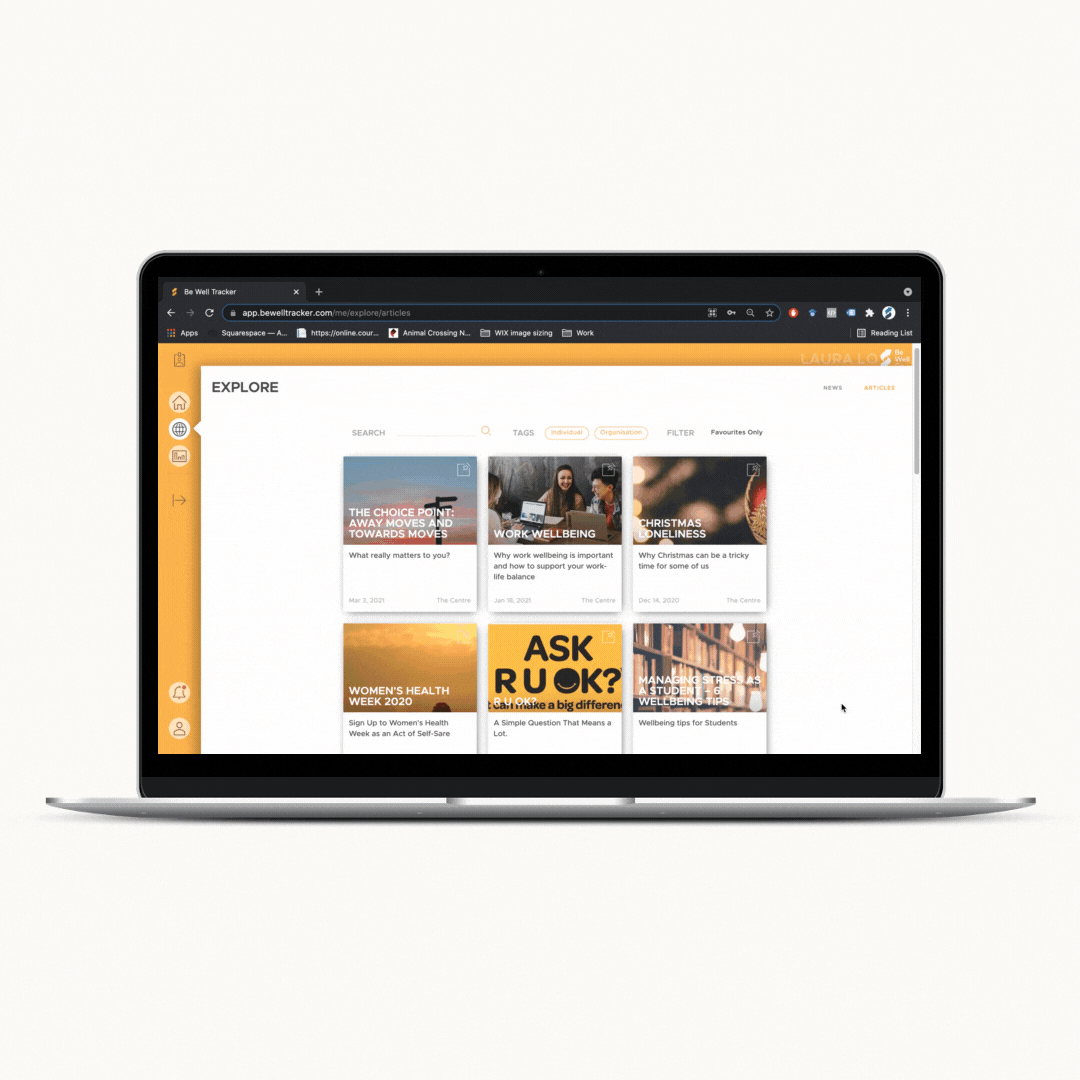 The Be Well Tracker has a unique focus in providing insights to users via real-time reports, gather de-identified data to create organisational insights and contribute to research on the wellbeing of the wider community.
​
When we measure mental health and wellbeing, we do this using our own state-of-the-art platform called the Be Well Tracker. Participants fill out a quick 10-15 minute questionnaire and get access to their own tailored wellbeing report when they are done.
​
Over time, we collate the individual results into reports, which can be done for specific organisations who for instance want to know about their wellbeing, or for general research purposes.
​
Not all data we capture is provided on this website. If you want to learn more​ about the Tracker and how it can benefit you, your organisation or your research, send an email to hello@bewellco.io.
​
Who have we measured so far?

​
​
We measured a total of 12,000+ people between 2019- 2021
1,700 people were measured during our 2020 Mental Health Week Measurement. 642 consented to using their data for our report.
The average age of our participants was 38.3 years
We measured 41.6% females and 20.0% males, with 38.4% preferring not to disclose their gender
Most participants were employed, 64.5%. A total of 24.2% were still studying.
The below graphs show a snapshot of our findings: we highlighted a couple of key insights. These graphs form part of the Be Well Tracker dynamic data, which means that the results below will keep evolving over time. We will update this data every three months with new insights into Australia's mental health and wellbeing.
We will also publish an annual report that provides more granular insight into our measurement data. You can click on each of the graphs below to download the 2020 annual report.
Why not explore your wellbeing yoursellf
Learning more about your wellbeing has never been easier. The registration box lets you register for your own free measurement. All you need to do is to send us some basic contact information. We will then send you your own unique invitation to the Be Well Tracker.