Our mental health is often a mystery to us: we typically don't have ready insight into what it looks like on an ongoing basis. And this doesn't just apply to individuals: organisations and even the government are lacking vital data on the wellbeing of our people.
The Be Well Tracker was created to help fill this knowledge gap in the public understanding of our mental health and wellbeing: a knowledge gap that impacts the wellbeing decisions we make as individuals, organisations and the wider community.
​
Getting insight into our mental health and wellbeing (not just symptoms of illness) using reliable scientific assessment tools is a vital step in changing our collective wellbeing. Knowledge is key to knowing where to intervene and where to further invest.
This isn't rocket science: individuals and organisations have increasingly been looking for reliable ways to gain insight into the state of their mental health and wellbeing.
We are on a mission to help people and organisations get these valuable insights. By doing this on an ongoing basis we are also creating a snapshot of Australia's wellbeing while we are at it.
​
Our team of academic researchers investigated the scientific literature for valid and reliable scales that are easy-to-use and interpret, and can provide benchmarks, keeping in mind that wellbeing needs differ for each individual and organisation.
The result is a flexible measurement tool that provides real-time reports for individuals and powers our ability to provide organisational insights based on scientific principles. Robust, Valid and Reliable.
​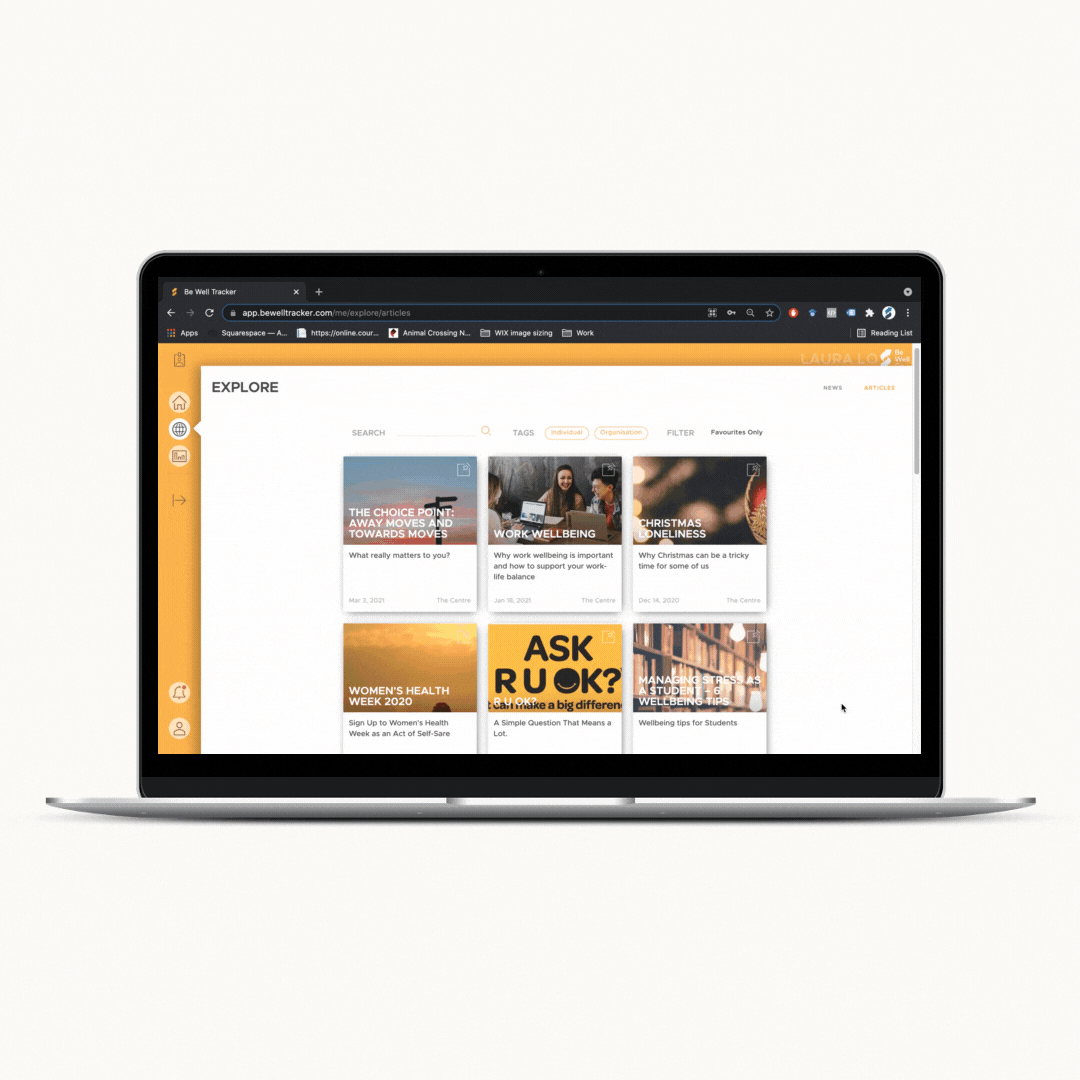 The Measurement philosophy
​
​
​
By using the Tracker, you will rely on a scientific approach to measuring mental health and wellbeing.
Everything in the Tracker is tested and validated, all the while allowing flexibility to tailor to the unique needs of organisations. This flexibility will expand more and more over the course of 2021, so stay tuned.
Until then, for those who wants some more insight into our methodology and our insights, read more via the button below.
​
The benefits of the Be Well Tracker
The Be Well Tracker is all about agency: giving you the insights you need to improve your wellbeing now and in the future.
​
What benefits can you expect
Immediate insights into your own wellbeing

Re-do the measure whenever you want

tailored resources to your mental health profile
The benefits for individuals who use the Be Well Tracker
Benefits for your organisation
The Be Well Tracker is designed with organisations in mind, giving organisations flexibility in measurement without losing the rigour that is required to see impact.
​What benefits can organisations expect
Flexible measurement tailored to unique needs

De-identified organisational reports with granular breakdowns

Clear benchmarking across public sector and private industries
The benefits for organisations who invest in the Be Well Tracker
Key Features of the Be Well Tracker
Comprehensive

​ measurement of positive, adaptive and distress outcomes
We use reliable & valid scientific scales

​
Quick and easy: done in 10-15 minutes
Participants get realtime individual feedback on wellbeing
Track change over time by repeating measurements
We provide suggestions for change based on wellbeing scores
Access the Tracker on any internet-enabled device
We can collated data to provide de-identified organisational insights
Secure & Private, adhering to strict security protocols



The Be Well Tracker has been tried and tested by individuals belonging to a wide variety of organisations.
Tell us a bit about yourself, so you can start your journey with the Be Well Tracker
​
I am interested in using the Be Well Tracker to measure the wellbeing of my organisation
​
Be Well Co Pty Ltd is a spin-out from the South Australian Health and Medical Research Institute (SAHMRI). We were set up to translate the research that SAHMRI and their collaborators (including Flinders University) conduct on the Be Well Plan and the Be Well Tracker. We are an independent organisation, but are still strongly tied to research institutes, with a portion of proceeds feeding back into vital research into mental health and wellbeing.